President Donald Trump said Saturday, he is open to talking to Kim Jong-un after calling the North Korean leader "Little Rocket Man" and expects some progress results from upcoming talks between the North and South Korea.
Trump, who last year castigated his chief diplomat for talking about negotiations with the nuclear-armed North, now told reporters at Camp David that some discussion over the phone or direct conversation with Kim Jong Un was not entirely intolerable or something that would never happen.
"Sure, I always believe in talking," Trump said. "Absolutely I would do that, I wouldn't have a problem with that at all." But he was quick to add that any talks would come with conditions, which he did not agree.
The first official talks between North and South Korea in more than two years are about to take place in a border town Tuesday as the two rivals try to find ways to cooperate on the Winter Olympics in the South and to improve their diplomatic relations.
Tensions remain high between the two regions because of Kim's address that the North Korea's nuclear and missile programs are complete.
Prime Minister Shinzo Abe, a supporter in Trump's "maximum pressure" crusade against the North Korea regime, welcomed the talks but stated that care is to be taken if any alliance is formed, in an interview Sunday with NHK.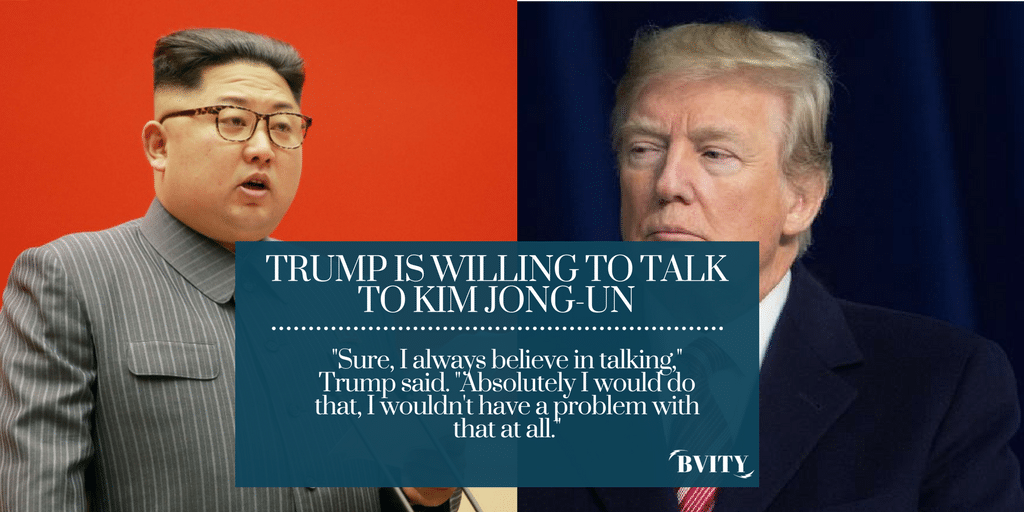 "North Korea has shown a willingness to cooperate on the Pyeongchang Olympics. I highly evaluate this change," Abe said, adding that their government must "abandon its nuclear weapons and missiles" programs.
"Talks for the sake of talks are meaningless," —Abe restated.
Moreover, Trump seemed to claim credit for bringing the two Koreas together.
"You have to have a certain attitude and you have to be prepared to do certain things and I'm totally prepared to do that," Trump said, claiming that his tough language and policy of "maximum pressure" had persuaded Pyongyang to speak with Seoul.
Kim, Trump said Saturday, "knows I'm not messing around. I'm not messing around, not even a little bit, not even one percent. He understands that."
Trump had made a similar claim last week via twitter saying:
https://twitter.com/realDonaldTrump/status/948879774277128197
When asked if he believed the talks would address issues other than the Pyeongchang Games, Trump said that he "would love to see it go far beyond the Olympics," adding that at the U.S. would be involved at the "appropriate time." 
"Right now, they're talking Olympics. It's a start, it's a big start," Trump said.
He added: "If something can happen and something can come out of those talks, that would be a great thing for all of humanity. That would be a great thing for the world."