Blush placement for face shape- this is our topic. We'll explain with the ultimate guide for how to apply blush. Using blush will warm up your face and make you appear more awake and rejuvenated.
In this blog post, we will explore the different techniques for applying blush based on your face shape. Whether you have a round face or an oval face, there is a certain way to blush placement for face shape to achieve a natural and flattering look.
Keep reading to learn more! Learn how to use blush to improve your face shape and how to select the ideal blush for your skin type and tone.
Blush Placement for Face Shape
When it comes to blush placement for face shape, there are a lot of different products and shades to choose from. But with so many options, it can be hard to know where to start. The most important thing to consider when choosing a blush is your face shape.
You'd think it would be fairly easy, wouldn't you? However, when it comes to the use of both of these products, there isn't a "one-size-fits-all" approach.
Different face shapes require different blush placement for face shape, in order to achieve a natural and flattering look. In this blog post, we will explore the different face shapes and how to find the best blush placement for face shape, for you. Keep reading to learn more!
Apply blush placement for face shape: ultimate guide step by step
Determine your face shape before applying blush so that it will be applied where it will look the best on you. Blush shapes and curves your cheekbones in addition to adding color.
Your blush's placement can either draw attention to your best features or subdue any that are perhaps too obvious.
Additionally, you don't have to work on it for hours. Once you know how, you'll be amazed at how much cosmetics can bring out your greatest features and cover up less appealing ones.
The following makeup hints and tips will make you wish you had known them years ago!
Learn about the 6 most common face shapes
On this image: (clockwise)
Olivia Wilde highlights her exquisite cheekbones and square frame beautifully.
Sarah Jessica Parker displays how to achieve width on a longer face shape.
Mila Kunis uses artful contouring to give a more angular appearance to her round face.
Scarlett Johansson sculpts her diamond/triangular shaped face with a peachy bronze hue.
Alexa Chung uses a coral colour to shade in her symmetrical oval shaped face.
Reese Witherspoon's heart shaped face is given a defining rosy tint.
Knowing your face shape will help you comprehend how different makeup placements can have distinct results.
Popular face shapes: There are generally six distinct face shapes:
1

Oval Face Shape

On a vertical plane, oval faces are proportionally balanced and longer than they are wide. Those with oval faces frequently have round chins and jawlines. The broadest area of an oval face is typically the forehead.
2

Round Face Shape

Short, rounded faces have soft features and a wide hairline. A round face's cheekbones are its largest feature, and the width of the forehead and jawline is similar.

3

Square Face Shape

Wide hairlines and sharp, powerful jawlines characterize square faces. For this facial shape, the width of the forehead, cheekbones, and jawline are all relatively equal. The length and width of this facial form are equal.
4

Rectangle or Long Face Shape

Compared to the square face form, the rectangle face shape is different. The forehead, cheekbones, and jawline are often about the same width, giving this face shape an oblong appearance.
5

Heart Face Shape

Typically, faces with a heart shape have a delicate, narrow chin that resembles the point of a heart (hence its name). The hairline of people with this face shape is frequently sharp. The biggest area of this facial type is the cheekbones.

6

Diamond Face Shape

A variant of the heart form is the diamond face. This facial shape is distinguished by a pointed chin and high cheekbones. Also common of diamond-shaped faces is a small forehead.
Identify what face shape do you have
Knowing the shape of your face might help you experiment with depth.
You are aware of the best facial feature to highlight. Knowing your face shape will help you determine which features could use a bit extra "pop" to make you stand out.
It's simple to determine your facial shape. Pull your hair out of your face so that it is clear before you begin.
Your face's largest area should be located
Identify the broadest area of your face by looking in the mirror (you can do this by sight or use a flexible tape measure).
Your face is oval-shaped if you have a broad forehead; round or heart-shaped if your cheekbones are the widest point (go on to the following stage to determine); and square-shaped if your face appears uniformly proportioned in width.
Identify the shape of your jaw
Your face shape may also be influenced by the shape of your jawline; if it is short or rounded, your face is round.
Your face is heart-shaped if your jawline is narrow and pointed. Your face is squarer still if you have a firm jawline with crisp angles.
Compare your face's length and width
Measure the length of your face versus its width if you're still unclear of your facial shape. From the front of your hairline to the end of your chin, measure.
Next, gauge the distance from your face's left to right sides. You might have an oval face shape if your face is longer than it is wide. You might have a round or heart face shape if your face is longer than it is wide.
Your face may be rectangular shaped if it is twice as long as it is wide. Your face may be shaped like a diamond or square if it is equally long and wide.
Blush placement for face shape: Next steps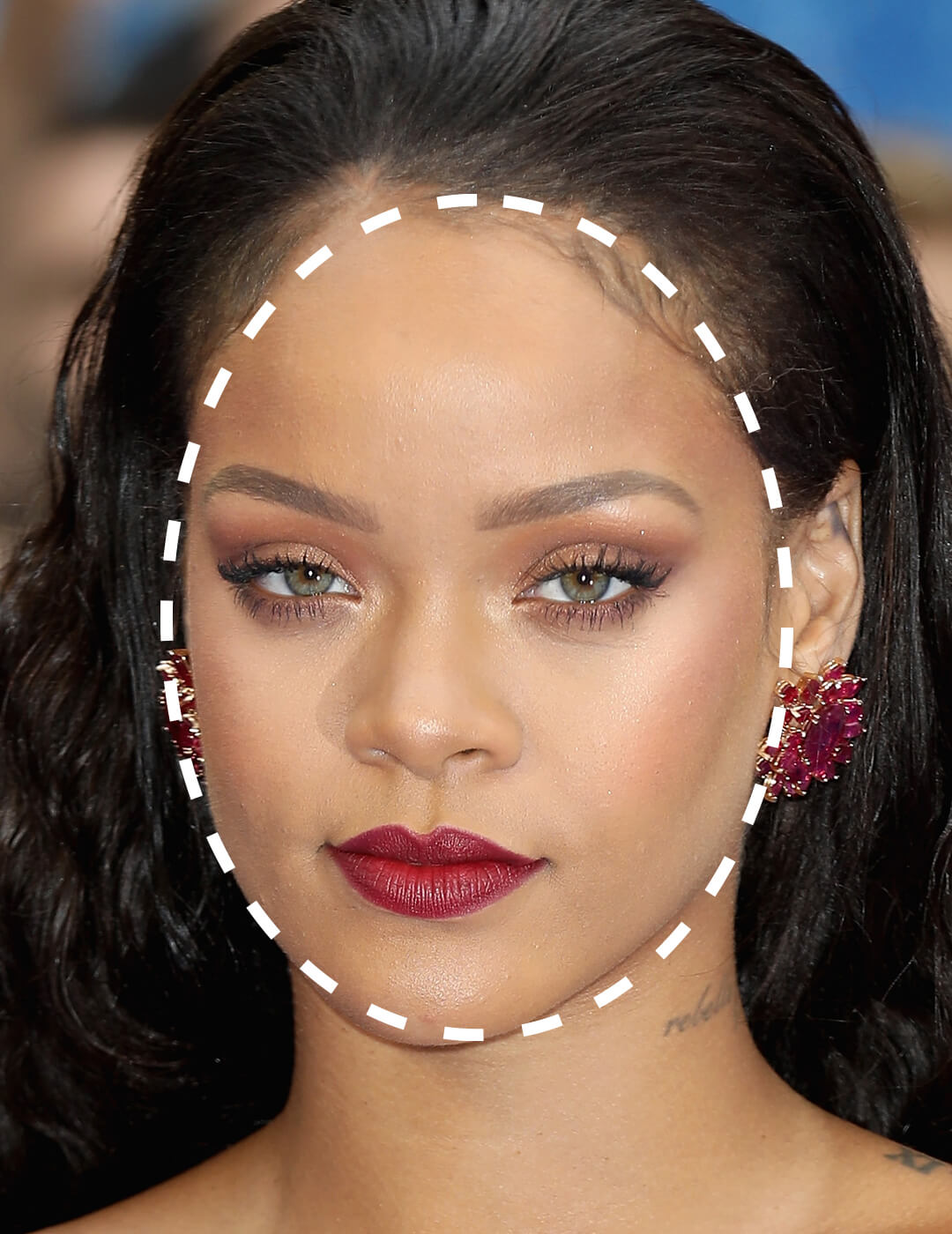 We always advise selecting liquid, cream, and gel formulations of blush. Powder blushes can cling to dry skin, fine wrinkles, and pores, making it clear that you're wearing one.
With a lovely flush of color that is ideal for drier or more mature skin, a liquid or gel blush applies like a second skin.
Additionally, liquid and cream blushes are significantly simpler to mix, giving your cheek color a flawless finish. Any blush you choose will look more natural if it complements your skin tone beautifully.
Step one: Use from the different blush types
Blush gives your cheeks a natural-looking flush, which brightens your skin. Blushes are available in matte or sparkly textures in cream and powder formulations.
While shimmering products work excellent as a highlighter, used sparingly on the high points of the face or just the cheekbones, matte products seem the most natural and are most adaptable.
Different media produce various outcomes. Whatever you do, avoid mixing cream or powder on top of one another because it won't blend smoothly and probably looks streaky.
Liquid blush and Cream blush
For dry or aged skin, liquid blush and cream blush are excellent options because they won't stick in fine lines. It's simple to apply cream with your fingers, press it into the skin, and then blend it with your fingertips for a radiant, youthful finish.
Start with a liquid foundation base before applying cream or liquid blush. If your blush is a stick, apply it to your cheeks right away. Use clean fingers to gently dab substance onto cheeks if it is in a jar. Blend using a makeup blender.
Powder blush
For individuals with oily skin, powder blush is fantastic. Additionally, because it is available in a variety of finishes, it is the most adaptable.
Although powder blush is renowned for adhering to dry patches and fine wrinkles, this problem can be solved with a good makeup primer.
Apply powder blush with a medium-sized, round, fluffy brush after prepping your face and, if preferred, applying powder foundation.
Targeting particular cheek areas will be more difficult if the brush is overly large or wide.
Gel blush and Stain blush
Most skin types respond nicely to gel and stain blush. Stains must be rapidly blended to prevent streakiness, although they will persist all day.
Step two: Choose the proper blush color
Pinch your cheek and match your natural flush to determine the perfect blush color for you. For a distinct effect, experiment with different colors like peach, pink, or red.
The cheek-pinching method may not always work on people with darker skin tones, in which case Bobbi advises picking a more vivid or deeper shade.
Finding your undertone is an excellent place to start, even if it is less crucial when choosing blush than it is when picking the appropriate foundation color.
Undertones can be classified as warm, cold, or neutral, and each of these includes tones inside it, regardless of how light or dark your skin is.
1. Cool hues like blue, red, or pink
2. Neutral is a combination of warm and cool.
3. Warm colors like yellow, peach, or gold
Choose a blush that complements your undertones for the most natural appearance: Plum for cool undertones and peach for warm undertones. Try exploring hues with the opposite undertone for a standout blush.
Choose the Proper Blush for Fair Skin Tone
The finest blush colors for fair or light skin are gentle pink, mild coral, and peach. Wear the soft pink hues for a natural look on women with light skin tones and cool or pink undertones, and the peach/coral shades for a splash of color.
Choose the Proper Blush for Medium Skin Tone
Try blush colors in deep peach, warm mauve, and rich pink for people with medium skin tones. If you have cool or pink undertones, you should wear deep peach or pink for a flash of color and rich pink or mauve for a more natural appearance.
Choose the Proper Blush for Dark Skin Tone
For those with a lot of melanin, blushes in hot pinks, flaming corals, berry, and wine tones work best. As vital as the hue itself is, the texture and finish are also crucial.
Warm undertones frequently appear in skin tones like tan and light brown. As a result, a delicate peach blush, similar to an apricot or melon tint, can bring out the best in your features.
For women with tan or light brown skin, a daily blush in a gentle pale peach color works well.
Step three: Apply blush to the shape of your face
To apply blush, simply smile and look for the apple of your cheek. Apply there, then brush downward to smooth before blending up into the temples.
However, if you want to experiment with varied blush placement for face shape, here are a few tips for each of the four common facial shapes.
Apply Blush to the Oval Faces
Your cheekbones should be covered in blush. Your cheekbone is easily located with your fingertips; to increase the height of your cheekbone, strive to place the color directly above the bone rather than into the hollow beneath it.
Apply Blush to the Heart Shaped Faces
We need to soften the edges so that your face looks more oval-shaped because it might sometimes appear pointed.
Starting near your ear and ending at a place below the outer corner of your eye, apply blush to the outer corner of your cheekbone.
To balance the width of your forehead with the width of your chin, also apply a hint of color by your temples, in the center of your forehead.
Apply Blush to the Square Shaped Faces
Apply your blush just below the cheekbone to assist define your cheekbones, which are the same width as your chin. Your face's edges will be softer if you apply blush along your hairline.
Apply Blush to the Round Shaped Faces
Avoid using blushers that are pearlized or highly reflective because they reflect light well and make a surface look rounder, which is what we want to avoid.
Matte blushers are the ideal option for you. From the ear down the cheekbone and towards the lips, move your blush.
To give the impression that your face is longer, add a little blush to the chin and blend it in carefully.
Apply Blush to the Rectangle or Long Shaped Face
Blend blush into cheeks just below the outer corners of the eyes. Make sure the blush never dips below the nose's tip. Your features will become shorter as a result.
Apply Blush to the Diamond Shaped Face
A pointed chin, a slender hairline, and high, more accentuated cheekbones distinguish diamond-shaped faces from oval faces.
For a gloriously shining kiss of color, apply your favorite cream or powder blush to the tops of the cheekbones and blend it in with your highlighter.
Blush placement for face shape: Recommended Blush Color Products
Every woman has a makeup item that she won't leave the house without using; for me, that product is blush. If you're anything like me, you're aware that a little color on your cheeks' apples may keep you appearing youthful all day.
However, blush is frequently disregarded; many women just apply the first pink color they come across. The truth is that, like to other aspects of cosmetics, picking the appropriate blush color for your skin tone requires skill.
Some of our picks for you:
Maybelline cheek heat gel-cream blush makeup, 0.27 fl oz, lightweight, breathable feel, sheer flush of color, natural-looking, dewy finish.
With our new cheek warming gel-cream blush, you can warm up your cheeks. Available in Nude Burn, Pink Scorch, Rose Flush, Coral Ember, Fuchsia Spark, and Berry Fame, 6 new blush colors and tubes.
Shop on Amazon
Daniel Sandler watercolour liquid blush light face makeup for all skin types, 15 milliliters, cherub.
A scorching wash of vivid pink that adds a healthy flash of color to dark and ebony complexion tones. Durable and water-resistant, superb construction and blending with a seamless finish, Wearing a lightweight formula is comfortable. To create a unique tint for you, wear it alone, layered, or combined.
Shop on Amazon
Ideal for anyone who want to experiment with different hues, including makeup artists. Soft, smooth, and long-lasting powder that is also very easy to color.
There is always a blush to complement you thanks to this bundle of 5 compact blushes in various colors. Colors: Cream Orange, Rose Pink, Barbie Pink, Coral Pink, and Caramel.
Shop on Amazon
Mineral Fusion's Smashing cosmetic blush is a rosy pink that you can use to contour, brighten, and highlight your cheekbones.
A natural flush of color is provided by luxuriously smooth, triple-milled minerals to enhance the complexion and give the skin a healthy, young glow.
Shop on Amazon

The #1 best-selling one-step foundation has weightless, medium-to-full coverage, a second-skin finish, blurs wrinkles, and nourishes skin.
Utilize primers that manage shine and prepare the skin's surface for easier makeup application to get a flawless finish right away.
Shop on Amazon
Final Thoughts about blush placement for face shape
As we age, our face forms also alter. For instance, due to the way fat, muscle, and skin change with age, older people tend to have more rectangular face shapes, whereas younger people are more likely to have triangle faces.
Finally, there are no strict guidelines for applying makeup or donning accessories or blush placement for face shape, but depending on your face shape, you might find that some items look better on you than others.
Enjoy yourself, don't worry too much, and keep looking stunning with blush placement for face shape.