Christmas Porch Decorating Ideas is our topic for this article. We're going to introduce you with some hand-picked amazing Decorating Ideas for your Christmas holiday.
Decorating your home for the holidays is one of the best traditions during this time of year.
Why these Christmas porch decorating ideas are amazing
Most people love to bring out their Christmas trees, light up their houses with twinkling lights, hang stockings and set up festive outdoor decorations.
But what's even more important than just bringing out the usual decorations is how you go about decorating.
That's why coming up with new and clever ideas for different spaces in your home can be just as fun as putting out the same old items from previous years.
Whether you have a large front porch or an alcove above your door, there are many unique ways you can decorate it for the holiday season.
12 Beautiful Christmas Porch Decorating Ideas
Depending on your style, taste and budget, there is something here that will inspire you to make this Christmas one of your best yet!
1

For a Vibrant Holiday Welcome
The most important thing is to welcome your guests with beautiful Christmas decorations on your porch.
Start with a large Christmas wreath hanging on the front door.
For a more vibrant look, add red and white berry garlands and Christmas ornaments. Place Christmas candles on decorative candle holders throughout your porch to create a cozy and warm feeling.
Lastly, add a Santa Claus or festive Christmas sign to your porch to let people know they've come to the right house!
2

For Life-size peg people and a giant wreath

This porch decorating idea is great for the whole family! First, make life-size peg people out of cardboard, fabric, and some paint.

You can create a giant Christmas wreath out of construction paper and some green garland to go around the giant wreath.

Make a sign on a large piece of cardboard that reads "Welcome Christmas!" Put the giant wreath, cardboard wreath and peg people on the porch to create a fun and festive atmosphere!
3

Let there be lights!

Lighting is crucial to any outdoor decoration, especially at Christmas time! If you have a pathway or walkway, you can add a festive element to it by decorating the shrubbery and trees with Christmas lights.

You can also hang lights above your front door or on your porch rails.

If you have a large front porch, there are many ways to set up lighting on it that will draw attention and be a beautiful decoration.
4

Cozy Porch Scene
Create a charming corner on the porch by bringing the living room outside. Begin by setting up a tree (here decorated with painted pine cones, dried citrus, and a berry garland) with wrapped packages beneath it.
Finish with a simple garland adorning a window, throwing in seasonal pillows, and adding a comfortable throw.
5

Red and Green Decorations
It's one of the great Christmas porch decorating ideas you can achieve. An old Ford truck enhances the allure of this 1800s Catskills farmhouse.
Vibrant red ribbons tucked among Fraser fir wreaths and garlands create a traditional Christmas color scheme by contrasting with the white snow and the white house.
6

Simply Charming Sleds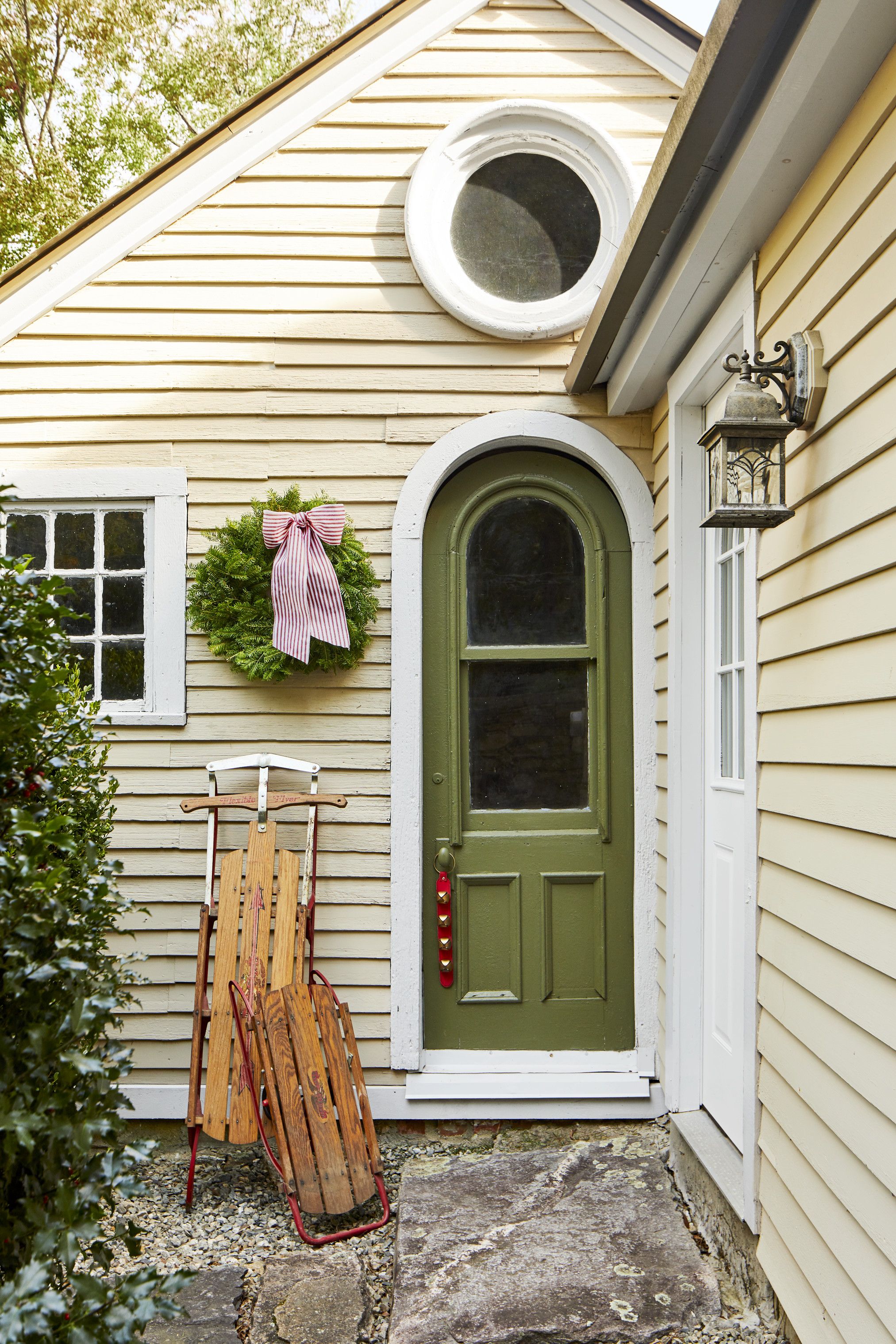 These simple wooden sleds make the perfect backdrop for antique decorations on this 208-year-old Connecticut farmhouse's side porch.
The arched green door with jingle bells adorning its door (shown here) matches the blue ribbon adorning the wreath in terms of color and style.
In Conclusion
The holidays are all about making people smile, so decorate your porch in a unique way that will make your guests happy and make the season special!
From Christmas wreaths and garlands to lights and decorations, your porch can be a beautiful space that everyone will love!